If your home or work activities require you to be seated for long periods of time than investing in an orthopedic chair might well be a smart move. Suffering from back pain can be a very frustrating experience. Every year millions of work days are lost due to employees having to take time off are due to back pain that may well have been induced by a poor sitting position. Even if you spend most of your time at home and have no necessity to go out to work, if you spend a large portion of your time sitting down then an orthopedic chair may well reduce the back pain that you experience and allow you to do much more with the time you do have available. In this article I aim to explain the benefits that an orthopedic chair can bring to your life and explain some of the terms and features associated with them.
An Orthopedic Chair Can Help Protect Your Back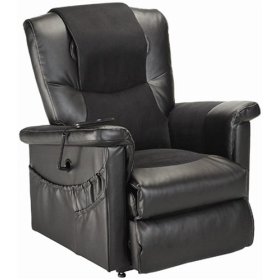 Sitting down in a poorly designed chair often bends the spine into unnatural and awkward positions. If we sit in these positions for an extended period of time it puts undue strain on the muscles of the back and for many people this is what causes them backache. A related issue is that when we sit down the entire weight of our upper body is supported upon our tailbone and this can be extremely painful for some people. An orthopedic cushion can sometimes help alleviate this problem, but sometimes a new leather chair would be a better solution.  Please remember that advice should be sought from a qualified medical practitioner if you require an orthopedic chair for medical reasons.  Even in otherwise healthy people a poor sitting can cause problems if you spend time sitting at a desk typing and the chair is either too short or too tall and forces you to reach toward the keyboard in an overextended fashion.
Types and Features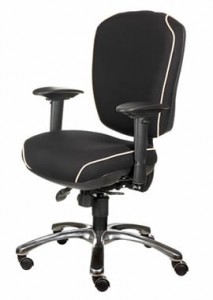 Modern orthopedic chairs come in a wide variety of sizes, shapes, colors and styles. The thing that they all have in common is that they will allow you to adjust the height at which you sit and provide you with a spinal position that will allow you to maintain a good posture while sitting. They do this by employing a number of different features including a method for raising or lowering the seat base, often this is done through a pneumatic device although this is not a necessity. All that is required is a dependable method of locking the height once it is selected. Another useful feature is the ability to alter the height at which the back support engages the base of the spine. Ideally you want the most supportive part of the rear of the seat in the small of your back. The aim here is to maintain the lordosis at the base of your spine and reduce unnatural spinal positions which can increase muscle strain. A further feature to look out for is whether are not the base of the seat can be tipped forward or back. This can be particularly useful if you need to use a foot stool or other method to support your feet as you can adjust the angle of the seat to easily accommodate this position.
If you need to sit down for extended periods of time whether at work, or at home, then choosing to purchase an orthopedic chair can be a wise investment. If you already suffer from back pain than a well-designed orthopedic chair may well help you reduce the amount of pain you experience. For those of us that are still healthy an orthopedic chair will reduce many of the stretch and strain effects of sitting in one posture for an extended period. Many governments around the world, especially in Europe, are instituting laws to ensure that employers provide a safe and healthy environment for their workers. Part of the remit of these laws is that they should provide comfortable seating that enables a user to remain seated for extended periods of time with us as part of their job description. Even if you do not work in a job that requires you to be seated for a long time surely it is worth the investment to look after your own health whether or not you are legally required to do so?  Choosing an orthopedic chair is the smart move to protect your health.