Buying a leather sofa can be a significant expense for any household, but leather is a great upholstery material and your purchase will last many years if chosen wisely. There are many factors to consider and not just price.  Amazingly many people buy a leather sofa in a saleroom as it was the one they fell in love with, but find out that it won't fit in their home when it is delivered.  Other factors to think about include color (although furniture covers can change this), style and model type – do you want a plain leather sofa, or a recliner, or leather sofa bed for example?  Could your humble brown leather armchair be replaced with a sofa chair? Sofa chairs can be great if space is an issue and a full sofa would perhaps be too large.
As these items of furniture last a long time they are worth investing money in and so my advice is to consider price last.  The reason for this is that there are many ways to reduce the price you pay and this article will explain a few.  Of course once you have decided on your purchase there are other things to think about like adding accessories and the purchase of cleaning materials.  I will cover these in the final section.
Will My New Leather Sofa Fit in My Home?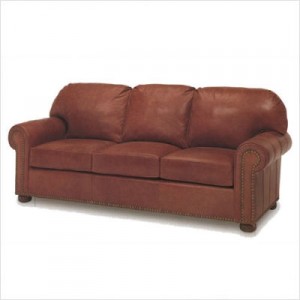 This really is the first thing to check.  There is little point in making a purchase and then discovering that it will not fit into your home.  Measure an imaginary rectangular box shape that your sofa will be fitting into – Height by Width by Depth (HxWxD).  This is how the store will measure it and most likely you can just ask for measurements rather than using a tape measure yourself.
Remember if you are buying a recliner to allow for extra room at the rear as leather sofa recliners take up more space when pushed back. Once you know how much space you have to work in, it is time to go shopping!
Leather Sofa Style Choices
The first and probably most important choice to make is color.  Will the color you choose really complement your home? Remember that a sofa is large piece of furniture and therefore is also a large expanse of what may be a uniform color.  For example, a large black sofa can have shrinking effect on a small room, whereas a light brown leather sofa will lessen this effect and a very light tan or off white color will do the opposite.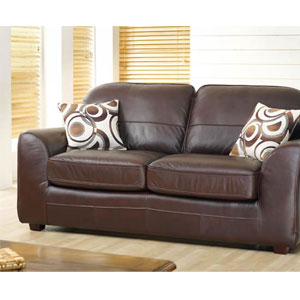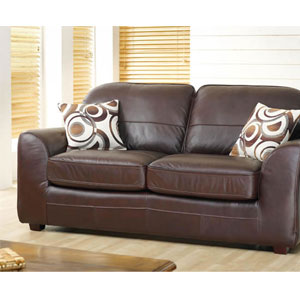 Leather sofas can be bought as recliners, sectional sofas and sleepers as well as the usual one piece leather chair variety. Recliners can be extremely comfortable and give a real sense of luxury but they are also bulky and take up more room that is immediately obvious – something to be aware of if your property is modest. Sectional sofas offer real flexibility if you can never make up your mind about room layout.  They also offer the opportunity to add or remove seats as you go.  If you combine this with a matching leather corner sofa unit then you can have a huge number of seating options available just by moving things around. Leather sofa beds are great if you want to be able to put up guests in the same room as your sofa and they wear very well and are comfortable.  They can be a great choice if you do not have a spare room, but still want to accommodate guests in luxury.
Sofa Bargain Hunting
Leather furniture can be expensive and as it is so durable the price is justified, but there are always ways of bringing the price down.  If you are buying on the Internet then use a price comparison website to get an idea of what you should expect to pay.  Amazon gives good deals too, but be aware of what exactly it is that you are buying and make sure that you are comparing like with like.  Construction quality plays a significant role here and is best inspected by visiting a real showroom, but if you buying online then buy from a large vendor and use a credit card if possible.  Credit card companies will protect your purchase automatically in many cases and return your money if there is a problem with the vendor.  Paying a credit card surcharge may well be worth it in the long run.
Once you have established how much you are likely to pay for the model of your choice then compile a shortlist of places where it is available and ask them for a best price!  Do not be unreasonable, but explain (truthfully) that store "X" is offering the same or very similar product for "Y" amount and will they match or better it?  Usually a salesman will know exactly what you are doing and will ask how much you expect to pay or similar.  Take a percentage off and make a real deal – he will not be offended if he is professional and will say yes or no.  If he says yes, then you probably just saved a few hundred dollars for ten minutes work.
It is not uncommon to be able to take 40% off advertised store prices, despite the fact that salesmen will tell you otherwise!
Leather Sofa Accessories
Consider buying accessories for your new purchase.  Euro pillows or other cushions can add a splash of color to your sofa and complement it wonderfully.  They also allow you to really get comfortable by rearranging them if you desire it.
Another accessory to consider is a leather pouf or maybe a leather footstool.  These go great with a recliner, but depending on the model may not always be required so do check first.  Your leather settee and pouf can stand in for a casual table and chairs if needed too.
Final Things to Consider
Leather is a hard wearing material that is great for furniture but even the most durable materials need care and attention.  Read the manufacturer's instructions on leather care.  Leather furniture will most likely require the application of a cream once a year or so to keep it in tip top condition.  Make sure you do this and your leather sofa will still look new for years to come.