In previous years I have organised a number of charity events and social functions.  Some of which had fairly loose seating plans and some of which had a far more organised layout.  From these events I have learned that no matter how well you have drawn out your table plan before hand there is almost always some unforeseen event that means the tables are not exactly as you had arranged.  When organising a charity event this type of problem merely causes a few moments of chat and negotiation while relocations and new arrangements are made, I can only guess at the anxiety these same events may cause at a wedding.
The Perfect Day
A wedding is (hopefully) a once in a lifetime event.  You want everything to go exactly as planned, or at least as close to this as is humanly possible.  There are some people you want to sit in specific places for various reasons and perhaps others you need to keep apart.  If the seating plan is to stand a chance of being adhered to you need to make it as easy to follow as possible.
Wedding Table Number Holders
A good way of achieving this is to make table number cards for each table.  Having table numbers means that most people will look at your plan, know what table they are on and head for it, even if the venue has made a forced change to the exact layout of the room (It does happen).  Ideally you want these numbers to be clearly and easily visible by anyone with reasonable vision and perhaps want them to be raised above the level of any table decorations or condiments that are expected to be present.  At the same time it is a good idea to make them a neutral color scheme in case there are any last minute changes in the arrangements.
Choosing the Best Table Number Holders for the Event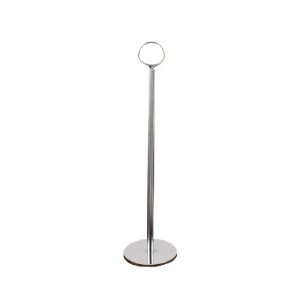 While stainless steel or chrome would normally perhaps be considered a cold material, at a wedding it will act like a mirror and reflect the prevailing color scheme perfectly.  For this reason I would recommend these types of placeholders unreservedly.  Gold finishes may sound like a good idea, but often look tacky when seen on the table.  Paperweight type number holders (butterfly's and similar) are really stable,  but at a wedding where you are likely to see a lot of flowers and other table decorations that will obscure low level numbers these placeholders are to be avoided.  A better solution is a tall table number holder of perhaps 12" or so in height.  The extra height allows them to be raised above floral displays and so perform their function adequately without serious danger of continually toppling over.
The only remaining thing to do is make sure that the numbers are clearly and easily visible.  This is usually a task that is handled by the printer covering the rest of the wedding, but there are a range of numbers to fit table number holders available from Amazon that are of high quality.
I hope that this article has helped in a small way to make your day a happy one.