Regulation Pool Table Sizes
Pocket billiards, or pool as it more commonly known, is a sport that enjoys worldwide popularity. However, pool lacks a recognised world governing body and for this reason there are actually no widely accepted regulation pool table sizes. It is possible though to give a list of general factors to consider when making a purchase in order to stand the best possible chance of acceptance of a particular table as being "regulation size."
National Pool Table Standards
As already pointed out there are no commonly accepted worldwide standard sizes for a pool table, but there is one common factor that is accepted.  That is the ration of the length of the table compared to its width.  Therefore any "regulation size table" is one where the length is twice the width. The tolerance in these measurements is generally accepted to be 1/8th on an inch on the playing surface itself. The unfortunate side effect of this is that a kids pool table that measures 48" x 24" can therefore be considered "regulation", providing that it is uniform in the length and width of its playing area.
In America pool tables tend to be 8 foot or 9 foot in length, with a common ratio of 2:1.  Thus the playing area for an 8 foot table is 96" x 48" within a tolerance of 1/8th of an inch.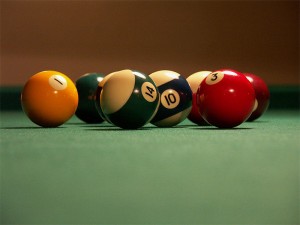 In England pool tables tend to be smaller and a 7 foot table is generally considered to be "regulation" for pool tournaments in pub leagues and similar. There is however one difference between an American pool table and its British cousin.  The pockets on a British pool table are much smaller and rounded.  This makes them much less forgiving for shots that run along the cushions or power shots into side pockets. The good news is that the pool balls used on British tables are also slightly smaller.  American style pool balls are 2 ¼" (58mm) and British style pool balls are usually 2 3/16ths (56mm). Pool balls smaller than this are intended for use on smaller scaled down pool tables used for children.
Local Pool Governing Bodies and Leagues
If you desire a table that will definitely comply with local regulations then you should contact your local tournament organisers and ask them for a list of regulation pool table sizes. This is the best way in which confusion can be avoided and you can avoid making a costly mistake by purchasing a pool table in a none standard size.
Image Credit: Wikipedia