The coffee table owes its origins to late Victorian Europe and to this day imagining one summons up images of convivial conversation and relaxed postures. The idea of a long low table designed to be used next to a sofa or other low seating was probably brought to England from Japan, although tables there tended to be more angular. The concept of an oval coffee table is a more modern idea and represents an evolution in the development of the style of this most friendly of low tables.
Coffee Tables Galore
Modern Glass Oval Coffee Table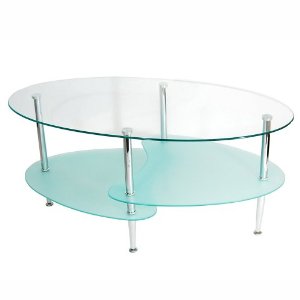 Despite being a relatively modern phenomenon, there are a wide variety of tables to choose from today, including contemporary designs such as this glass oval coffee table from Walker Edison.
This ultra modern oval glass top coffee table features split level frosted glass shelves and is sized at approximately 38 x 20 x 18 inches.
Wooden Coffee Tables
Perhaps you require something more homely and comforting?  Natural wood is a more traditional choice and there are many options available. Perhaps all those exposed glass edges were too much and despite them being tempered and bevelled you just do not feel comfortable allowing young children or pets near them? Here is a lovely compromise.
Cappucino Finish Oval Coffee Table with Glass Center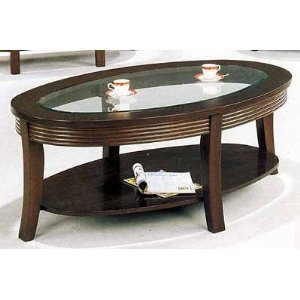 This table is a solid and well built design with a useful lower shelf. The bevelled rings around the top edge make an interesting design feature that could perhaps be used to echo similar features in your own home.
Although this is the most expensive table here the quality of this item is evident to any inspection.
This item measures 32 x 52 x 20 inches approximately.
(Ornaments shown in the photo are for illustration only and are not included with the table)
Wood Oval Cocktail Table (with Castors)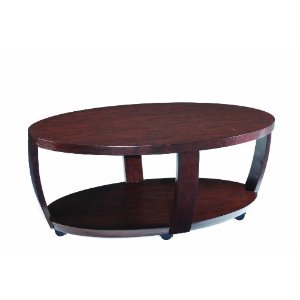 This table is a less expensive model than previously shown, but construction is solid and the castors under the legs allow for easy relocation around a room, should that be an  important factor for you.
This model features a dark stained walnut veneer and hardwood solids.  It has a lower shelf and measures approximately 28 x 48 x 18 inches.
Dark Wood Oval Coffee Table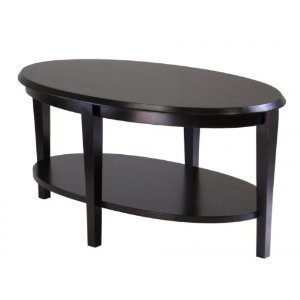 Again, this is a moderately priced coffee table with good construction. The table is available with a companion end table if one is required, although this listing is for one item only. This range also has a matching half moon console table. It measures 37 x 21 x 18 inches approximately and some assembly is required.
All of the items on this page are fulfilled through Amazon or their chosen partners. As such they come with Amazon's usual sterling returns and refunds policy meaning you can shop with confidence.
This concludes our selection of oval coffee tables. We wish you every happiness with your purchase. If you have not found what you are looking for, perhaps it would be worth browsing our card tables also?