Here at folding chairs and table we don't just care about seats and tables, we also care about the things that go into a home to make it a real haven of style and tranquillity.  No house can stand without a solid foundation and the best in tables and chairs still need a solid floor to rest on. Replacing a floor can be an expensive business and many people worry about the cost involved. This is natural, but sometimes this worry causes people to make poor choices for the long term. Hardwood floors last a very long time, are extremely durable and add great classic look to your home. The problem is that they are expensive to purchase and install and this causes many people to try and save money by installing a cheaper laminate option.  This can be a mistake and I aim to show you why.
Why Solid Oak Flooring is Best
Oak is one of the densest of the widely available hardwoods.  There are several types of wood that are more dense than oak, such as Ebony or Lignum Vitae (also known as Guayacan or Pockenholz in Europe), but they are hard to source commercially (protected by CITES and other agreements) or prohibitively expensive to use on a large scale flooring project.  As a balance between density and cost, oak flooring comes out best overall.
As an interesting science tidbit: Did you know that Lignum Vitae is so dense that it will sink in water?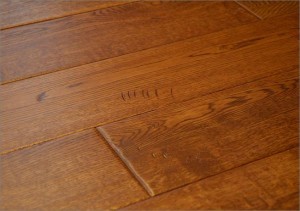 The reason that density is important is that it is a partial indicator as to the durability of the wood. If your floor is never to be seen then of course softwood such as pine would do the job, but a floor will receive many scratches and scrapes over its lifetime and hardwood flooring will always fare better through these trials, as this picture illustrates.
The quality of laminate flooring can vary wildly.  Some laminates are quality products, but many are little more that a photograph of wood grain on sawdust that has been glued together under pressure. If a board such as this receives a deep scratch it will show its nature "under the skin" and quickly your floor will look extremely scruffy.  A solid oak board on the other hand will most likely take the same amount of force and show only minimal marking, even if the scratch is deep it is easily repaired.  The board can be sanded down and re-stained and polished to match the original installation with little difficulty.  It is this ability to be resurfaced that really makes solid oak floors a great investment.
Fashions change over time and unless your pockets are very deep paying to change your floor every few years will not be a realistic option.  For example, if you installed a dark stained oak floor and do not like it, or fashion has changed and you want to move with the times achieving this with a laminate floor means ripping it up and reinstalling a new floor.  If, on the other hand, you installed a solid oak floor then it is merely a matter of sanding off the top surface, restaining the boards and applying a new protective coat such as wax or varnish.  This causes much less disturbance in your home and is significantly cheaper to achieve.  What is more, you can do this many times, depending on how thick the boards were that you purchased.
Once you realise that a solid hardwood floor will last many years, look great for all of that time and can be sanded and re-stained to suit your styles and fashion choices it ceases to look like an expensive choice.  In fact, choosing real oak flooring can be a bargain.