Green baize is not just for card tables!  If you are thinking of buying a billiards, or pool table, then this article will provide you with a bit more information to enable you to make a more informed choice. The market in billiards and pool tables is full of marketing language and somewhat misleading descriptions of products.  So after reading this, when you see a ad saying " pool table for sale " you can feel confident that you will buy wisely.
For instance: Most people assume that a pool table will have a one piece, real slate bed and so when a product is described as "slate-core" they assume this means that the table bed will be a solid piece of slate. But they would be wrong.
There is a straightforward reason why this should be case of course.  By far the largest part of which is cost, while weight plays a lesser role.
Slate-Core or Real Slate Bed Pool Tables?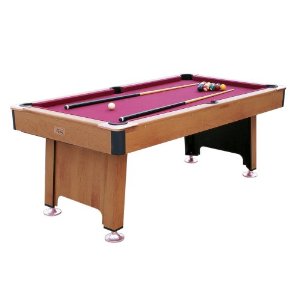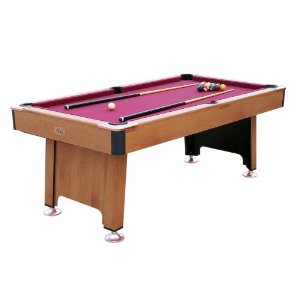 A real slate bed pool table will usually cost well in excess of $1,000.  (See the Amazon ads on this page for example prices)  A slate table will also be very heavy.  The weight will make it difficult to transport and also limit the places in which it can be installed.  A slate-core table will for the most part play equally well, but at a fraction of the cost and be considerably lighter.  This lower cost and weight means that more people will get to play on a larger table and this can only be good for the sport overall.
Whether a real slate bed table is important to you or not is of course a personal choice.
Regulation Size?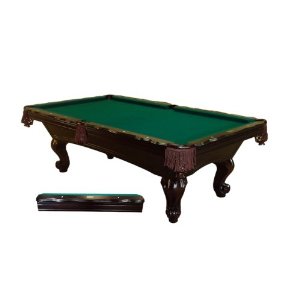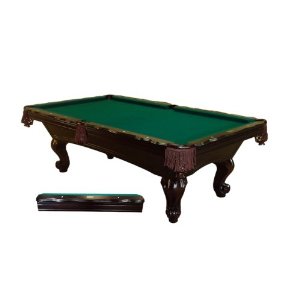 Whether you are buying a pool table for adults, children or yourself it pays to know exactly what it is you are buying.  Pool table sizes are deregulated worldwide.  The only constant is that the playing surface is of the ratio of 2:1.  This means that a table that is eight feet long will have a playing surface four feet wide.  So when a table is advertised as "regulation size" this actually means very little.  A children's pool table sized at 4 feet by 2 feet is therefore "regulation sized."
Individual leagues and the governing bodies ruling them will of course have their own minimum sizes for pool tables. E.g.  In the English pub leagues they usually specify a seven foot table as the minimum standard size. In America, the more usual size is nine feet by four and a half.
The images on this page are actual American pool tables for sale from Amazon.  The tables represent a small selection of the full slate bed and slate-core tables available today.
Fun fact:  Did you know that pool is the safest sport to play?
Source: Billiard Congress of America (BCA)