Are you looking to buy a leather tub chair?  This article will help you make a more informed choice about the options available to you and also help you to avoid common mistakes and pitfalls in buying leather chairs of this sort.  If you think that price should be your main concern, perhaps this article will make you think again.
Leather tub chairs can be extremely comfortable, hard wearing, stylish and last for many years if purchased wisely.  Leather is a durable material which ages well if the hide is of good quality and securely attached to the frame of the chair.
How can we tell a good leather tub chair from a bad one?
Price and Store Returns Policy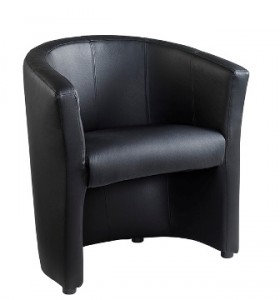 Remember that price is no indicator of quality. Where possible always physically inspect your purchase before parting with any cash.  If physical inspection is not possible, for instance if you buy off the internet, then make certain that the supplier offers a FULL money back guarantee.  A restocking fee might be acceptable if you are buying a custom made item, but for mass produced furniture it is unacceptable.  If a product is bad, an honest store should accept its return without issue.  Avoid stores that do not offer this service.
Indicators of a Quality Leather Tub Chair
Give the chair a reasonable physical test yourself.  Sit on it, lean back on it, push the sides of the arms in and out etc.  Do not be embarrassed to do this in the shop itself, even if the salesman is watching you.  While you may not regularly do this to your furniture at home you can be certain that children and guests will test it to destruction!  Get in there first.  If you are of small stature yourself, get a larger friend to perform tests for you.  After all, your furniture must be able to cater for anyone that might reasonably uses it.  Flimsy construction should not be tolerated.  If the chair flexes unduly now, when new, it will almost certainly not stand up to daily use.  It will likely end up costing you a lot more in the long run when it has to be replaced prematurely.
A tub chairs leather upholstery can vary widely.  Examine the quality of the leather itself as well as the stitching.  Top quality leather tub chairs will usually be made from "full hide" leather.  This is a term the trade use to describe leather that has not been split, buffed or had other treatments applied to it to improve its cosmetic appearance.  The reason why this is important is that full hide leather tub chairs will breathe better (so reducing effects of perspiration for the person sitting on the chair) and age well. A full hide leather chair will develop a patina over its surface with age, which only adds to its charm.  Top hide tub chairs are treated with more chemicals and tend to split and age with less grace. If in doubt about what type of leather your chair is made from, then ask.  It is your money after all.
Stitching used to construct quality furniture will be close spaced and uniform.  This helps to give the hide strength to resist tears and splits by distributing stresses evenly.  Loosely spaced, or worse, uneven stitching can cause a premature rip in the leather that can be expensive to repair.
Alternatives to Leather
Some people may love the look of a luxury leather tub chair, but are put off by the leather itself as it is an animal product.  If this is the case for yourself or your guests then there are plenty of options available.  A Faux leather (also known as fake leather, manmade leather or "Vegan" leather) is today a viable alternative and is often cheaper than its natural leather alternative.  Man made leather might not develop the same patina as the real thing, but no animals will be harmed in its production and often the cost is often much less.
With the information you have now received from this article go out and buy your new leather tub chair with confidence. May your purchase give you many years of service as a stylish addition to your home.