Sometimes space is of the utmost importance and folding, or collapsible furniture can be a real boon. Folding coffee tables such as this allow for versatility in your living space, or can be a great traveling companion for business presentations.
This little folding table from Spiderlegs is an excellent piece of design and manufacture for anyone who needs a really small table that can be stowed away or stored compactly.
Construction and Features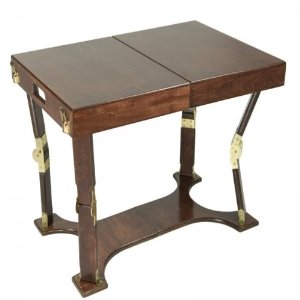 With legs fully extended the table is 18″H x 28″W x 18″D and folds down to the size of a small suitcase (4.75″H x 14″W x 18″D). No assembly is required and the table folds away into itself to resemble a small wooden suitcase (the table surface becomes the outside of the case).
The legs of this folding cocktail table are made from birch, while the top and base are made from Alamo wood. It is available stained to three colors – natural, oak or mahogany.
The surface of the wood is well protected with several coats of polyurethane varnish.
The folding legs on this item feature brass hinges with a locking mechanism, which is designed to be applied and released by a firm pressure between finger and thumb.  This mechanism is intended to stop the table folding unintentionally under load, but the manufacturers recommend that no more than 75lbs of load is applied to the table's surface.
For most applications this is satisfactory, but standing on the table is definitely not recommended!
This Folding Coffee Table is a Great Space Saver
Any collapsible table is designed to save space and this one is no exception.  When you consider that it folds down into less space than many deckchairs take up you can it really is compact.  It is also comparatively lightweight, weighing in at less than 15lbs. This makes it ideal if you need to travel with it for trade shows or similar business activities.  The sophisticated red mahogany finish means that it doesn't look cheap and let your product down by creating a cheap impression.
For individuals living in compact accommodation it a great addition to the home as it can easily be folded up and stored under a sofa or bed when not in use.  It will even fit in many closets and if lain along the floor of the closet will actually have little if any effect on the storage capacity of the closet itself.
For the price, this folding cocktail table is a great investment and its space saving qualities should mean that it never gets in your way.
For more information, or to buy this table – Click here!