Sometimes when space is limited the idea of having guests or relatives come to stay can be awkward.  You want them to come, but lack the space or sleeping arrangements to look after them properly.  A full size divan obviously takes up too much room and so a folding bed might be the order of the day.
What if you only need a single bed for one person and there is a bedroom in which they could share?  How about a single folding bed chair?  The folding bed chairs on this page are a selection of well designed and built bedroom furniture that will allow you to host extra guests with minimal fuss.  We hope you like them
Foam Folding Bed Chair Selection
To allow a chair frame to fold it is difficult to make a sprung frame as the various sections would be too distorted to work easily.  Unless a lot of money is spent on the product the resulting solution can often be extremely uncomfortable.  Designing a foam folding bed chair to get around is much less of a challenge.  Foam padding will keeps its shape well over time and if cared for will have a long and useful life.  Foam mattresses are also quite resistant to damage from spills or other accidents.  It is of course worth checking that the foam is a fire retardant variety, but this is a usual standard in furniture sold in the Western world today.
One distinct advantage that a folding chair bed offers over a folding sofa bed or similar large product is that of versatility.  If you purchase two of these chairs then they can easily be placed next to each other to make a double bed too.  Of course they will need to be the same model for this to be effective, but the two chairs can then be stored in separate rooms.  This is something that cannot be said of any folding sofa solution.
Adult Folding Chair Beds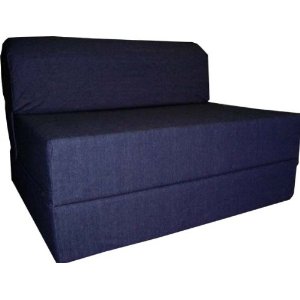 This item although illustrated in blue is available in other colors such as brown and black.  See the listing page for other items by the same manufacturer.
This folding bed is 6″ Thick x 32″ Wide x 70″ Long when extended and 23″ high to the back rest and 12″ high to the seat when used as a chair.  The foam is very stiff when first purchased but does break in over time and usage.
This chair could also be used as a camping bed in a reasonably dry environment such as an RV or motorhome.
Children's Folding Bed Chair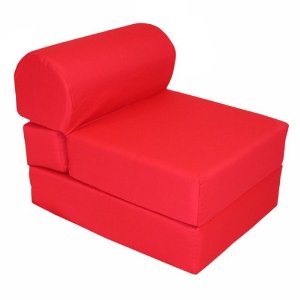 This kids folding bed comes in no less than eight fabric colors or patterns and two widths.  If you choose to buy this product from Amazon please make sure you select the correct product as there are many options available.
The chair is a diminutive 64″ long fully extended, but should be fine for young children.  There is no chemical odor from the foam and the covering is poly-cotton so it is allergy friendly.