The Tub Chair – An Iconic Classic
The classic tub chair has been around a very long time, but remains an enduring favourite in many a lounge or living room. The basic half barrel type construction of these tub seats makes them incredibly durable and strong, but allows them to be comfortable and reassuring too. Whether you are looking for a fabric tub chair or one of the more hard wearing leather tub chairs then you can still be assured that they will be a classy addition to your home. After all, they originated in the court of Louis XV of France and you cannot have a higher recommendation than royalty, now can you?
Retro Chic with a Plastic Tub Chair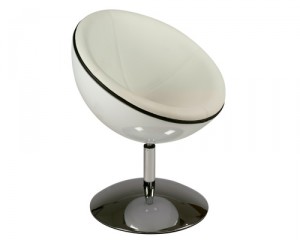 This type of seating regained popularity in the 1960s when a number of iconic pictures of top models of the day were taken sitting in swivel tub chairs or in "space age" plastic chairs. Today, they offer a chance to recapture that look and play to the retro-chic market. If you are on a budget then these durable and cheap tub chairs might be a good option – especially for dining areas, rather than living rooms or lounge spaces.
However, while plastic tub chairs remain a popular seller, I cannot in good faith recommend them as they can be hard and uncomfortable to sit in for any length of time – consider the classic plastic chair of many fast food restaurants! A plastic chair is inappropriate for any restful lounge, but better for dining if expecting only a short stay. If you really need a plastic chair then a better and cheaper option might be a quality folding table and chairs set.
Giving up comfort goes against the whole spirit of what these seats are all about!
Natural Materials are a Great Upholstery Option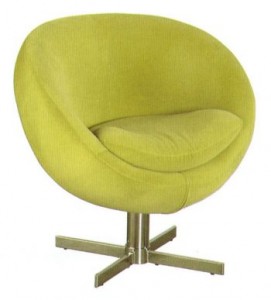 A far better idea is to buy a fabric tub chair or perhaps the best option is to go for leather. If leather is undesirable, then there are a number of excellent microfiber materials with which your chair could be upholstered.
Cloth upholstered tub chairs are perhaps the least hard wearing of the coverings available, but they are certainly comfortable and often cheaper than their leather covered cousins. Natural fabric tub chairs are a great option if you want to buy green and make a minimal impact on the planet. A fabric chair is also great for a bedroom, not just a lounge. Sympathetic furniture accessories like an Ottoman offer great storage too. The classic cloth covered chair is not recommended for dining areas, or lounge areas where strong coloured liquids could be spilled onto them.
Classic Black Leather Tub Chair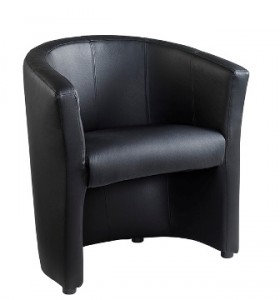 Another image that may come to mind when we think of these seats is a British style smoking room where the upper class would sit in a brown leather tub chair to play cards and discuss business.
Those days are very much behind us.
Today you are far more likely to see a classic black leather chair in a top restaurant or bistro although admittedly they will generally go for a variety of chair colours rather than basic brown or black.
Modern Microfibre Tub Chairs Give Excellent Color Options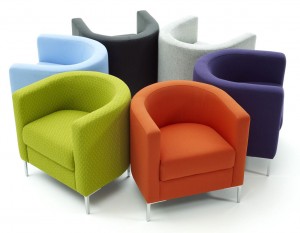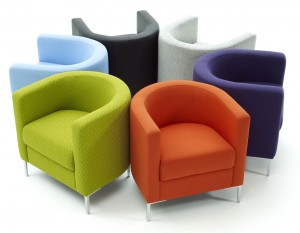 Manmade fibres, such as microfibers give this type of seating a whole new lease of life. Plastic offers a selection of colours, but generally gives less comfort. A good microfiber tub chair allows you to have both choice of color and excellent comfort.
Microfibre is really easy to clean, in common with leather, but of course contains no animal products if that is important to you. It is also really hardwearing, which can be significant if you are buying chairs that you expect to see a lot of traffic.
As you can see there are a great number of choices available when buying a new furniture item for your home and I hope that this article has enabled you to be better informed while considering your options before buying your classic tub chair.