Last month, my girlfriend and I visited a new restaurant. The place had a lovely, relaxing ambiance, friendly service and great food. One thing that stayed in my mind about the place was the great bucket chairs and table decorations that the venue made full use of.
Many restaurants want you to be comfortable, but not too comfortable. After all, if you stay too long then the number of covers served in an evening is reduced and potentially so are the proprietors profits. The cozy wraparound effect of low backed, bucket leather chairs that the restaurant employed had really helped add to the experience. It made us feel happy and relaxed. Yes, we over-stayed, but that meant more drinks and so I guess the choice to make customers feel comfortable does have some upsides.
Are Bucket Dining Chairs for Us?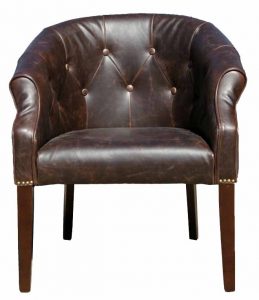 Of course, in your own home the case is different. You want your guests to feel comfortable and "at home" when you entertain them. Over-staying is not an issue. If you are anything like us then most of your entertaining takes place around a large kitchen diner. Usually these spaces have a large table and high backed chairs of some sort. After visiting that restaurant I started thinking that bucket dining room chairs make a refreshing change from the usual, possibly boring, choice of high backed dining chairs.
If we were to change them though, where should we go?
Ebay is a Great Source of Ideas
First, I went looking for ideas on eBay. Unfortunately, the choice of bucket chairs for sale were a bit uninspiring. Cheap bucket chairs creak, I know from experience…
However, quality furniture stores charge top dollar for durable furniture, so I persevered with Ebay. A good set of bucket chairs and table from a furniture retailer can easily cost over $2,000 (six chairs).
Plastic bucket chairs also feel too cheap and nasty, as well as failing to deliver anything close to the level of comfort I am looking for. Fast food chain use plastic for a reason, they want you to move on as quickly as possible. Plastic also make you sweat. Ditto metal bucket chairs…yeeuch!
Choosing the Right Bucket Chairs and Table Combination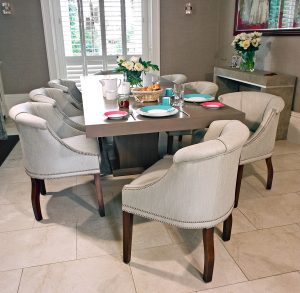 Our kitchen table is quite high, but I find it comfortable as I am tall. Any short or small bucket chairs were discounted from the start. The table is only about four inches taller than average, but small tub chairs would give it a feeling of being at school again, age five!
Fabric coverings, especially modern micro-fibres are excellent, being both durable and easy to clean. My problem with them is that the photos of the chairs made the padding under the upholstery look thin, uncomfortable and uninviting. Comfort being a priority, I elected to pass on these too, unless there was a local listing that I could inspect in person.
So what style to choose?
Bucket style chairs come in a reasonably wide variety of colours, but many of these ranges are only available as fabric bucket chairs, plastic, or other man made coverings. It quickly became obvious that if I wanted comfort and a natural material then the range was likely to be limited colour wise.
Inspired Choice? Leather Bucket Dining Chairs!
These offered everything I was looking for. Ease of cleaning, check. Durable, reasonable colour choices and a natural material, check.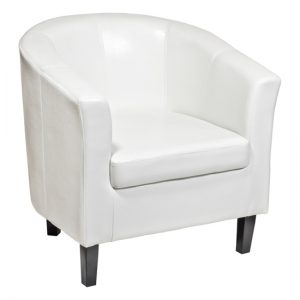 We eventually chose white bucket dining chairs, in leather made to a modern style. They go reasonably well with the rest of the kitchen as the decor is mainly white or light wood, but I would have preferred something to bring a bit of colour to the setting. Still, we got these bucket chairs cheap, so I cannot complain. A little over three hundred dollars for six, including fuel to go see them and delivery is a very good price.
Overall, I am happy with our new bucket chairs and table combination, but who knows when the urge to change them and buy something new will overcome us?