Sourcing office furniture can be a difficult task.  Every dollar spent on office equipment is a dollar that cannot be spent on manufacture or delivery of services.  So, while you may wish to buy wisely, the pressure is intense to buy cheaply.  Have you ever considered that there may be more than one cost associated with cheap office chairs though?
Sickness and Morale
Any buyer can see the price of the bottom line for purchase of a set of chairs, but the hidden costs might be even more significant and much less obvious.  Have you ever considered the costs to your business from employees taking time off due to back pain?  Ever considered that being uncomfortable or in pain at work lowers productivity and morale?  Morale is hard to measure, but the overall motivational levels of staff are extremely important in a sales environment for example.  In telesales employees are encouraged to "smile at the customer as though they are present" because the tone of voice often conveys a great deal.  If the employee on the phone is uncomfortable due to a so called "bargain office chair" this is likely to make them sound stilted and perhaps this may cost a sale.
Legal Obligations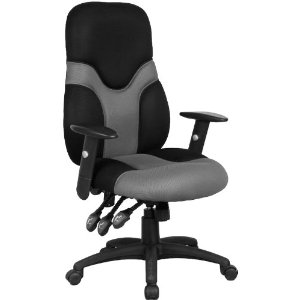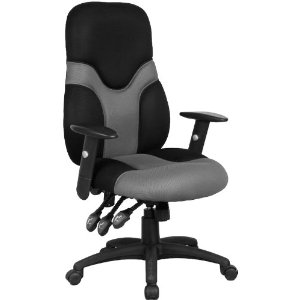 While it is hard to measure the exact effects of poor posture on back pain and possibly even harder to establish a causal link between a cheap office chair and a given episode it is worth pointing out that workplace legislation is in place in many countries that places an obligation on the employers to provide a healthy and safe work environment.  Is it really worth saving a few dollars a chair and then being the health and safety legislation legal test case for your local area?  Of course it isn't.
The chair in the image (from Amazon.com) costs about 10% more than a budget office chair, but is fully adjustable for comfort. Compare the prices and decide for yourself if you and your employees are worth the extra.
Price of Purchase Vs Long Term Costs
Treating employees with respect and providing for their health and comfort at work should be the goal of every decent employer.  This isn't just wishful thinking.  It is often the case that the gains in productivity and reduction in employee absence from work due to sickness actually pay the difference in costs between discount office furniture and the quality equivalent.  Even if this were not the case, providing a healthy and safe work environment is increasingly becoming a legal obligation.  A wise man once said that there is no such thing as a good legal case, meaning that often any legal case is a large and unnecessary drain on you, your business and any profits you might make.
Isn't it better for everyone to buy reasonable quality, ergonomically sound, office chairs in the first place?
Reference Material: http://www.ccohs.ca/oshanswers/ergonomics/