Anti fatigue floor mats are a type of safety flooring designed to reduce the stresses and strains experienced by persons who spend a large amount of time standing or walking around a limited area. These mats are most often used in industry to provide relief from hard concrete floors, but may also be seen in commercial cooking and kitchen areas. The idea is that by providing a level but cushioned floor area many strain and tripping injuries can be avoided. These mats are recommended by OSHA as a possible solution to back and leg strain problems in the workplace.
Types of Anti Fatigue Floor Mat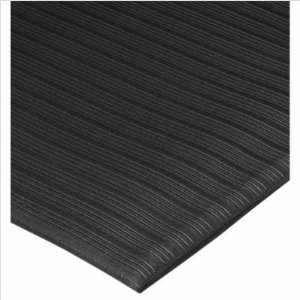 The majority of these types of mat are made of rubber or closed cell foam and are produced in fixed sizes. As you would expect of an industrial product, initially, color ranges were limited. However, in recent years, as this type of flooring has become more popular, carpet covered varieties and other brightly colored and interlocking anti fatigue floor mats have become available.
These recent developments have allowed for a product that can be safe and hygienic as well as one that can blend in with existing decor without being obtrusive and additionally accommodate any chosen standing or desk area – of large or small imprint. Adding comfort and safety for a low price!
Industrial anti fatigue floor mats are currently the largest section of this market overall. Many types of tool operator position tend to be semi-fixed in location and so a small area of matting can provide maximum benefits in a cost efficient manner.
Similarly, in many bar area, kitchen and cooking jobs movement occurs in a limited space. This limited floor area makes for an ideal situation to install kitchen anti fatigue mats.
Benefits of Anti Fatigue Floor Mats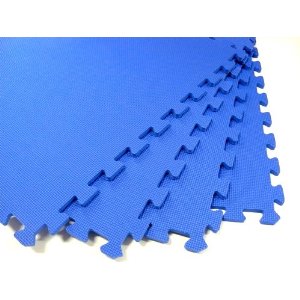 The main benefit of this type of flooring is in the reduction of employee strain and fatigue as well as increased comfort and support. By allowing easier movement they contribute to increased blood flow to the lower legs and also help reduce back problems – especially if the office or work environment requires an employees to stand for a long period. Some have asserted that decreases in insurance premiums and employee absenteeism have occurred after the fitting of these types of safety mat, but the evidence for this appears to be anecdotal.
Safety floor matting of this type can significantly reduce other types of accidents as well as reducing the risk of slipping and falls. Installation of kitchen anti-fatigue floor mats can significantly reduce the number of items broken in a cooking area by cushioning their fall – especially if the mat is thick or uses a gelpro, cumuluspro or similar surface. The flooring allows a dropped item to bounce, rather than break. The reduction in breakages saves money directly, but also reduces down time spent on clean up of glass and other debris.
In Conclusion
Anti fatigue flooring can definitely improve employee health and safety and may contribute a positive return on investment over a longer period too. If your work environment carries significant risk of slipping or breakage it can be a fantastic investment both from a safety and financial point of view. Pick a thick mat for the best support and comfort, but a thin mat for ease of movement if standing behind an office desk or similar, especially if castor seating is occasionally used.
Background Safety Material: osha.gov